This is the FORMER Official Web Site of the Alamo Heights High School Class of 1971, San Antonio, Texas
For all who were in our classes at any point between 1959 and 1971
The purpose of this site is to share information, memorials, memories, photos, and reunion info.
please click around the pages, and scroll down memory lane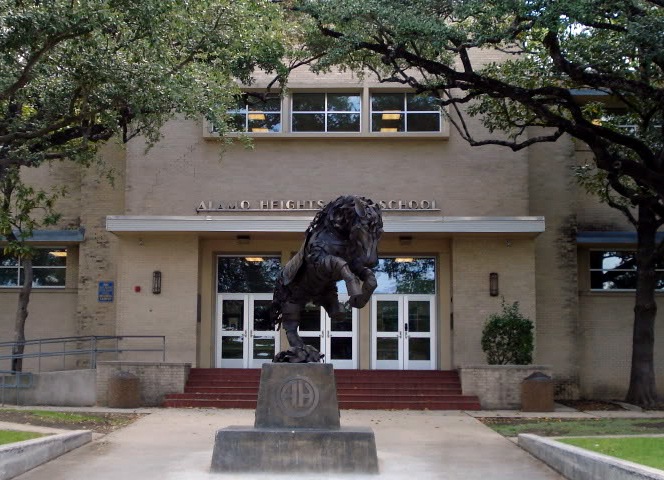 ---
Class of 1971 Online Database (Private):
PLEASE Update your contact info CLICK HERE
This is our Class's own private, confidential database, used for Reunion Updates & Invitations. Your information is kept confidential, is NOT accessible by the public or class members. Nor is it shared with class members. We will not flood you with emails.
(or, you are welcome to email Toni directly with name, email, address, phn changes)

What's New:
SHUTTERFLY: NEW! View our 2001 BIO Book, Directory, Reunion Photos, and more.
http://ahhs71.shutterfly.com/ (password protected) Request Password
FACEBOOK: Join our Group: Alamo Heights High School Class of 1971 Facebook Group
TWITTER: Follow Our Tweets! https://twitter.com/AHHS1971

---
LOST CLASSMATES & MISSING EMAILS
Please take a look at the list and help find People and Email Addresses

Do we have your current Email Address?
If you have not received an email from Toni in the last 90 days, we are missing your information

Please Click Here to Update/Confirm your Contact Info
Email Address, Mailing Address, Cell Phone, Home Phone, Work Phone or contact Toni at tschmid@austin.rr.com or 512-329-5933
(NOTE: All contact info is kept confidential and is not shared)
---
Classmates living, working, and serving in far corners of the world
Have you worked or served abroad? If so, please send photos and info to tschmid@austin.rr.com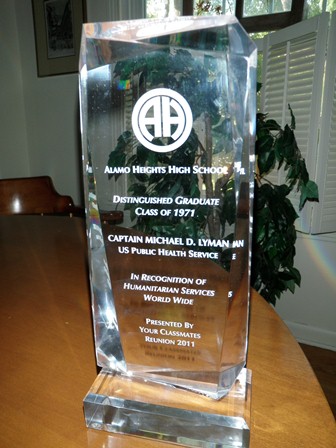 ~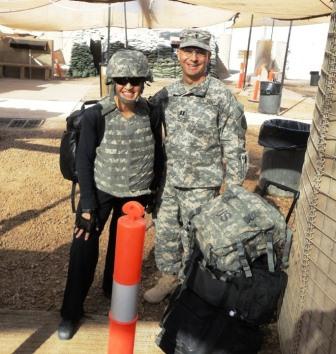 Can you recognize Chrys Lambros Parker in her body armor? Rev. Dr. (Chaplain) Chrys L. Parker had the honor of being the only civilian engaged in combat chaplaincy for the Army. This was taken as she stepped off a Blackhawk in Iraq in 2010.
Larry Stenger's work routinely takes him to: China, Malaysia, Singapore, Brazil, Mexico, Scotland and France. "This is the Singapore skyline from their HUGE Ferris wheel, the Singapore Flyer, on my 2011 February trip. Singapore is my favorite Asian destination because you can speak English, the folks are extremely friendly and all the food (even that from street vendors) is safe to eat. As a colleague once put it, it's Asia Light. (If only it weren't so far away, the flight I take is 18 hours, 45 minutes non-stop from Newark to Singapore!)"
Mike Lyman is on assignment in Kabul, Afghanistan, as a Health Liaison, working with Afghan health officials & private organizations on US government-funded health projects.
---
Where Were You in November 1963?
"Recently I toured a friend's office in San Antonio who collects historic photographs. At the end of the tour, he showed me the framed photograph. I remembered it immediately. As 5th graders many of the class of 1971 are in this photograph standing at this fence behind Cambridge Elementary on Broadway in 1963 when JFK, Jackie Kennedy and John Connally drove by in their motorcade. JFK was assassinated the following day in Dallas. I was one of the kids in the photo. I remember our 5th grade teacher, Mrs. Hanson walking our class to the fence to watch the motorcade and I definitely remember the next day when she walked into the classroom and announced that the President had been shot. I believe most everyone remembers where they were when that happened." ~ Elizabeth Webb Wendel



Please contact Toni if you or anyone you knew were in this photograph
(click here for more childhood years)

Thank you to Elizabeth Webb Wendel and Jim Berg for bringing this photograph to our attention.
Photo courtesy of MatsonCreative.com, no reproduction is permitted by law.
Photo (10" x 25") @MatsonCreative.com - $49.50.

"Yes, I remember the day very well and I believe I am the smiling kid in the striped shirt at the far left side of the picture. I don't remember the shirt, since it was most likely a hand me down from my older brother, but the grin on that mug looks familiar. As JFK rode by I yelled out "Yeah Kennedy" to which he responded with a smile and a "We are the Champions" two hand clasp above his head. Really made my day, which heightened the shock from the events of the next day in Dallas. Two days later we all watched on live TV Lee Harvey Oswald being shot at point blank range at the Dallas Police station. In 1963, TV was still a new fangled device and seeing these events unfold live and in black and white was truly remarkable. Certainly not the antics of Mr. Green Jeans and Captain that a 10 year old student at Cambridge Elementary was accustomed to. The events of that week in November certainly changed how I looked at TV from then on, and to an extent how I look at life. Enjoy it while it's turned on, because in flash, the channel is gonna change." ~ Mannti Cummins

" ... I was shocked to see the JFK picture on the AHHS71 web as I am one of the kids in the picture from Mrs. Hanson's class, and think I may be just to the right of Mannti Cummins. My hair was always in a burr haircut at that point (probably a precursor to my Marine Corps days) and I remember the day very well. (However, in my memory I thought we were on the playground side of the fence, but that's what age will do to you.)
In my recollection we were told on the PA system that the President had been killed, and I think we were sent home shortly afterwards. I remember Tim Timmins (my best friend) and I walking up Townsend Ave. to where Tim's mom parked and we were talking about the assassination. I often tell friends on the anniversary of JFK's death that I saw him the day before but don't know how many folks just think it's another tall tale from Texas. I'll sure give them a look at this picture next November." ~ Larry Stenger

" ... I was there at the time of the JFK photo, but was not in the pic. I was further to the south as is most of Mrs. Hanson's class. If I were there, you could easily spot me as I was a easily head and shoulders taller than everyone in the class and I was in the back row because of that. Along with us would be (to the best of my recollection) Dev, Blake Middleton, John Saunders, John McCaleb, Julie Brown, Ilse Garrett, Quinn Williams, Boo Boo Jockush, Tay Mason, and my memory dims...
But the day Kennedy was shot, Mrs. Hanson was called out into the hall. Blake and I had been playing chess as it was right after lunch and we were just getting ready to start class again. Mrs. Hanson came back in the room and started to say something and stopped midsentence and sat down at her desk with her head in her hands crying. At that same instance, Mr. Huff came over the speaker and made the "official" announcement. Julie Brown went nuts... completely hysterical, which caused Mrs. Hanson to get a grip and take care of her. (Julie's dad was an elected Democratic judge and I am sure she felt a personal relationship with President Kennedy and had probably met him in person, I would think, during the campaign.)
Everything was pretty surreal the rest of the day. Then, on Saturday, I was at the ranch and my grandfather was watching the live broadcast of news as Oswald was being transferred. It is my recollection I saw him get shot live. I am not sure this is true. It may have just been a recorded tape, but I know it was shortly thereafter, if not live." ~ Max Wier

See additional postings at Childhood Years under Cambridge Elementary 5th Grade