2011 "Distinguished Graduate" Award
(see John Heaney's comments below)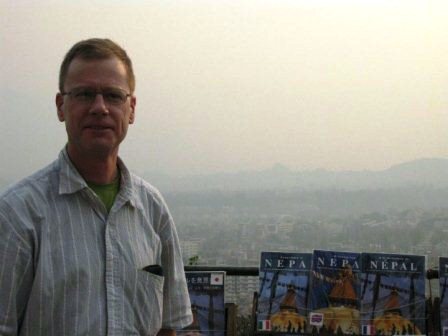 Comments from Afghanistan:
August 2011 ~ My family & I returned from Mozambique in 2004 & we returned to a house we'd kept in the Baltimore area. I worked in Baltimore or DC from 2004 to 2011.
I took a 7 month assignment to Kabul in March 2011 & just the other day agreed to stay for an additional 12 months (thru September 2012). My work here as Health Liaison is interesting & I feel I'm able to help some. I am working with Afghan health officials & private organizations on US government-funded health projects. I'm also working hard at learning Dari, the local language. It's not so difficult & makes my interactions so much more fun & interesting.
I'm gearing up to return to the states for several weeks in September - October. The AHHS Reunion should be fun – many thanks to Toni & unnamed others for making it happen.
I'm fantasizing about retiring from the US Public Health Service in 2012. It has been a very interesting & often quite challenging 23 years.
Unfortunately, my wife & I separated several years ago. That was very difficult, but we've been able to maintain.
Our two sons: One is a university senior in Baltimore & the other is a US Marine in Afghanistan.
BIO As of January 2, 2003:

I have been married for 16 years to Donna (formerly Donna Kochis of Akron, OH) whom I met while living in rural Alaska. Donna & I have two healthy sons, now aged 11 & 12. Having the boys has certainly made changes in my life, as all of us with children have likely experienced. I have learned an improved sense of patience & a tolerance of the unexpected. Both of these "skills" come directly from parenting!!

My work is as a career officer in the US Public Health Service, one of the uniformed services of the federal government. Donna & I are both nurses, however neither of us has done much clinical work with patients recently. Donna is mostly at home with the boys, which has seriously simplified our lives.

We have lived in several places: Alaska (where we met while we both were providing health care to Eskimos in a remote area); Sudan (where we did refugee work); San Antonio (where I returned to school for a year); West Virginia (where I worked for CDC); Armenia (where I worked for CDC); the Baltimore / Washington area (where I worked on health issues between the US & other western hemisphere countries), & now Mozambique (where I'm on a CDC HIV/AIDS project for the next couple years).

A major love of mine is travel, which I try to do fairly often & hopefully am passing the love of travel on to my sons. So far that seems to be working, as the boys seem to enjoy being dragged around to various places, both on & off the "beaten track."

I am also fairly adept at learning languages, which sure makes travels easier & more fun. I have been pretty decent in Spanish for many years, which has helped me in learning other languages. I originally learned Spanish while attending nursing school in El Paso. Over the years I have learned & used Yupik Eskimo, Italian, French, & Russian. Unfortunately, I need to use these to maintain them. Mozambique is a Portuguese-speaking country, & I am working hard at being comfortable in speaking it. Both fortunately & unfortunately, it is rather close to Spanish, which makes for many similar rules. However, I've learned the hard way that expecting a word to be used in a certain way because it is done that way in Spanish doesn't work & can have unexpected consequences. I'm very pleased to have some facility at learning languages. This is quite a change from how I left high school where I had a terrible time getting a "C" grade in Spanish & thought I had a block against languages.
Comments from Mozambique:

December 2002 ~ It finally got hot two days ago, & I'm having a difficult time getting in the Christmas spirit, even though my wife put up Christmas decorations this weekend. We've been in the southern hemisphere before for Christmas, & each time it doesn't feel quite right!!

I'm basically enjoying Mozambique & am having a good time learning Portuguese. The country has the most fantastic beaches & is definitely an up & coming country in Africa!

September 2002 ~ This is a pretty great place. We (wife, boys ages 10 & 12) have been here since mid-July. There's lots of challenges, but also excitement, change of pace, etc.
I'm learning to speak Portuguese & very much enjoying it. It can be nerve wracking to try to operate in another language for a long time. I get really worn out by it. I've been through it with several other languages, & like how much it contributes to my enjoyment of being somewhere.
I'm here with a CDC HIV/AIDS program. We do all kinds of things to try to reduce the disease, primarily working through the Ministry of Health. I should be here for two or three years, & if things go well, we could extend for another.

May 2002 ~ In January I accepted a job in Mozambique, Africa doing HIV / AIDS work. I just returned Thursday from a month away from home, with 3 of the weeks in Africa. The other week was with CDC in Atlanta for whom I'll be working. I will remain an officer in the US Public Health Service so am only really changing work assignments. It looks like it will be a good situation for me & my family. My boys are 10 & 12 & are a bit hesitant, but so far they're being good troopers about continuing to satisfy Dad's wanderlust. My wife Donna is looking forward to it, though we're all certainly a bit nervous.

It will be a two year assignment, beginning July. The embassy has located a house for us & everything will be pretty comfortable, etc. There are game parks nearby in South Africa & fantastic beaches, snorkeling, etc in the area. I'm excited & looking forward to the change. It certainly is much more difficult now having a family, but I strongly feel that it is important for them to have different experiences & feel comfortable in different situations.
---
Comments from Mike's life long friend, John Heaney, November 2011:
I have known Mike Lyman since grade school and have always considered him to be one of my closest friends. So, when Gordon and Toni asked me to present him with an award at our 40th reunion and provide a little back story, I was happy to oblige. However, given the festive atmosphere, questionable attention span of the audience and the general reluctance on the part of the honoree to be acknowledged, I wasn't able to really give him his "just deserts" and will try and do so now.
For those of you in attendance I mentioned that I thought Mike's life could be fully explained by the letter S. Specifically, three uses of the letter S.
The first was Slacker, but let's just say you had to be there to appreciate that one.
The second was Service and service is the story of Mike's life on his journey from slacker to Distinguished Graduate Award Winner. The following timeline will give you a brief glimpse of that journey.
Post Graduation from AHHS 1971-1976
Couldn't get him to own up to what he was doing. See Slacker note above.
UTEP 1976-78
Pursues and obtains a Bachelor's Degree in Nursing. Mike loves to travel and he figured if he was a nurse he could get a job anywhere in the world. Not only that, since most nurses at that time were women, he figured he would be able to get a date!
Bethel Alaska 1978-83
Lands his first nursing job in an Eskimo Hospital. This was hard work but at least his house had an indoor toilet….well, sort of. Because of permafrost and the lack of underground sewers he had a "honey bucket" which he had to put out for collection once a week. This proved to be good training for what was to follow. He transferred to various health care positions serving Native Alaskans during this time.
Red Devil Alaska 1983-85
Moved to an isolated cabin on the Kuskokwim River. This was a one room log cabin with a wood stove for heat and a root cellar that served as a refrigerator. No honey bucket here, just an outhouse without a door. It did, however, have a Styrofoam seat which proved to be invaluable when outside temperatures hit 30 below zero. From here he provided health care and training to remote villages, travelling by boat in the summer and snowmobile in the winter. By his own account, he also managed to get in a fair amount of hunting and fishing.
Bethel Alaska 1985-86
Growing weary of the remote life, and perhaps wanting to distance himself from his now ex Eskimo girlfriend, he returned to the thriving metropolis of Bethel, population around 5,000. He took a job as nurse in the new state jail serving Native Alaskan inmates. This required frequent trips to Anchorage, where he met his future wife Donna, also a nurse.
Sudan 1986-1988
Mike and Donna married in San Diego California because it seemed more likely that friends and family would attend than if they had married in Bethel. It was a smart move! Wanting to honeymoon in a romantic foreign land, Mike volunteered to be the Country Director for a relief agency providing health care to Eritrean & Ethiopian refugees. They lived in a remote refugee camp a couple of hundred miles from Khartoum in what Mike described as some of the worst conditions he had ever encountered.
UT Health Science Center, San Antonio 1989
Mike returned to San Antonio to earn a Masters in Public Health Degree
Morgantown W. Va. 1990-95
Taking a job with the CDC as a Nurse Epidemiologist, Mike and Donna moved to Morgantown where he worked with long term health issues stemming from the coal mines of West Virginia. Both of his sons, Collin and Corey were born here.
Armenia 1995-96
Epidemiology Surveillance Advisor to Armenian Ministry of Health
Growing bored with the status quo he moved the family to Armenia where he helped the government establish basic health alert/tracking programs along the lines of what the CDC uses.
Columbia Md. 1996-2002
Various health positions with Medicare / Medicaid offices in Baltimore.
Recognizing the need to expose his sons to a "normal" childhood, he firmly plants himself in suburbia, complete with a home on a golf course.
Mozambique 2002-04
Deputy Director of US Government HIV/AIDS project
Having had enough of suburbia for a while he convinces the family to move to Africa for a couple of years before the boys start high school. They rent out their house and move to Maputo where Mike helps with the effort to control the spread of HIV/AIDS in Africa.
He returned to the states briefly in November 2002 to accept the Golden Nugget Award from the University of Texas, El Paso. Each year UTEP "recognizes exceptional graduates from each of the University's colleges and schools who have distinguished themselves in their professions and lives, given back to their communities and alma mater, and serve as an inspiration for future generations of Miners". Mike was a 2002 recipient of this award.

Columbia Md. 2004-2011
Various health positions with Medicare / Medicaid offices in Baltimore.
The family returns to their house in Columbia and the boys continue with their education.
Afghanistan 2011 to present
Health Liaison Officer to the US Embassy in Kabul.
Here he coordinates Department of Health & Human Services activities to Afghan civilians.
Having tired once again of the suburban lifestyle Mike, now separated from Donna, applied for a position in Kabul. Coincidently, a few months later his youngest son Corey, now a Marine, was deployed to the Kandahar Province in southern Afghanistan where he will be stationed until February of 2012.
Which brings me to my third S word for describing Mike, Success.
Combining his passion for travel with a strong determination to make a difference in the world, while at the same time raising two sons and exposing them to a lifetime of experience before they reached 18, Mike has achieved a level of personal and professional success to which we should all aspire. ~ John Heaney 2011