Obituary: David Wayne Richardson, 34, died Saturday, July 11, 1987. Mr. Richardson was a lifelong resident of San Antonio. He was a member of the First Christian Church of Houston, where he was a Deacon, Tenor Soloist, and Sunday School Teacher. He worked for Memorial Hospital Sustem for the past four years and was currently employed by West Houston Medical Center. He is survived by wife, Carol Dodson Richardson, daughter, Christina Joy, son, Clint Allan; Parents, Allan and Jewel Richardson; brothers, Jim and Gary Richardson; sister, Grace Whitis. Funeral services will be held Sunday, July 12, 1987 at 4:00pm at the First Christian Church, 1601 Sunset Blvd. with Dr. J. Robert Moffett officiating.. A funeral service will be held on Monday, July 13, 1987 at 3:00pm in the Chapel of Sunset Funeral Home in San Antonio with Dr. Royce Makin officiating. Interment will follow in Sunset Memorial Park Cemetary in San Antonio, TX.
AHHS Accomplishments (from Olmos '71)
all regional choir 4; spring play 1,3,4; fall play 1,3,4; U.I.L. play 1,2,3,4;
national thespian society 1,2,3,4 and sgt-at-arms 4; debate club vice president 2;
national forensic league president 4, chaplain 2, and executive council 2,3,4;
mixed chorus 2,3,4; U.I.L district president 2,3, regional pres 2,3, state pres 2.
Sonbirds 1970/1971: it has become a custom for mr. greenlee's choral singing department to continue to produce outstanding male and female vocalists. this year the tradition has been kept alive by four talented singers: joe labatt, meredith teague, david richardson and lynn moreland. these virtuoso songbirds are in the final tryouts for all-state chorus. (photo below)
thespians 1970/1971: twice a year the students at alamo heights are entertained by a drama department replete with tremendously talented thespians. in the olmos staff's opinion those who merit top billing are dick woolley, melissa murray, david richardson and nancy biggers. these actors and acresses have provided many a deightful moment intheir unforgettable roles in school plays. melissa murray even performs with a local drama group besides.
A Loving Tribute by David's sister and brothers, written for our Class Memorial Book in 2001
It is difficult to summarize a loved one's life in a few sentences; However, my brothers and I have developed the following paragraph about David
David Wayne Richardson attended UT-Austin and then worked as a media specialist for several years in San Antonio. At the time of his death, he was a well-respected and published business officer for a health care system in Houston.
David was very active in his church, working with various age groups. He was paticularly involved in the church drama activities. He continued using his wonderful singing voice at church, as well as in community theatre.
He remained close friends with high school friends Henry Grun and Dick Wooley, and kept in contact with several of his AHHS Teachers.
David died in 1987 of a cerebral aneurysm at age 34. He was survived by his wife and two young children. His children are now 16 and 14 and have his delightful personality and great talent.
We remember him as a good husband, father, son, and brother. He was a wonderful Christiam man who was loved by those who knew him. His keen wit and great singing voice still vividly remain in our memories of him.
Thank You
Grace Richardson Whitis ('61)
Jim Richardson ('62)
Gary Richardson ('73)
2001
a man of many talents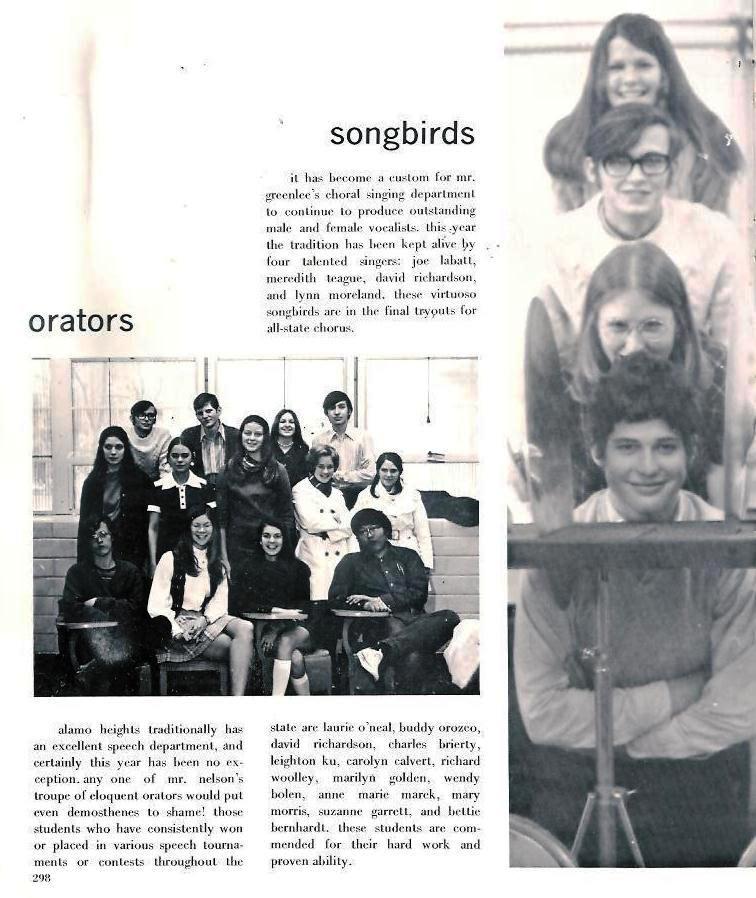 Choral Music Club Senior Year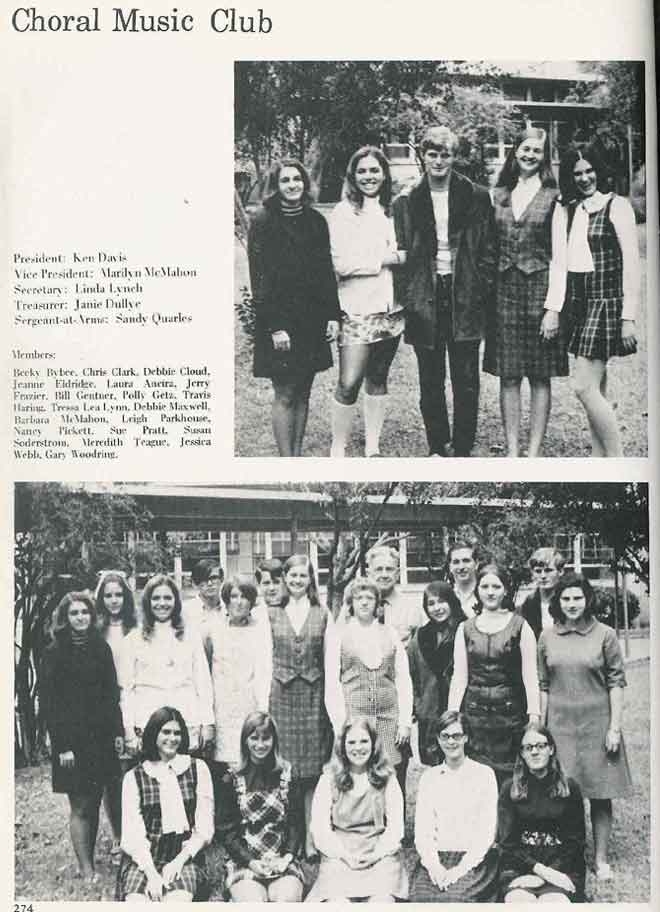 2nd Grade Woodrige Elementary - thank you letter to Mrs Stevenson for the sand dollar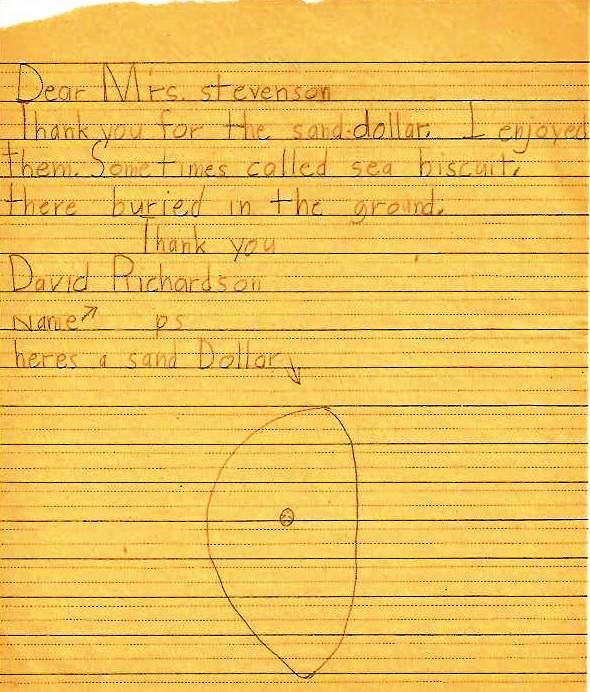 Please send memories and photos to tschmid@austin.rr.com