Obituary

~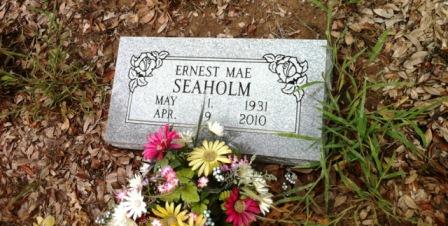 Ernest Mae Seaholm
May 1, 1931 – April 19, 2010
Masonic Cemetery, Eagle Lake TX

Ernest Mae held a BS Degree from University of Texas and a Master's Degree from University of Colorado. She taught in Wichita Falls, Alamo Heights in San Antonio and Columbus High School. Membership list includes: Daughters of the American Revolution — John Everett Chapter, Columbus; Daughters of the Confederacy — Shropshire-Upton Chapter, Columbus; National Society Colonial Dames 17th Century — John Champion Chapter, Houston; Clayton Library Friends, Houston; Eagle Lake Study Club — Eagle Lake; Colorado County Historical Commission; Clear Creek Cemetery Association; and Retired Teachers Association. As Chairman of the Marker Committee for the Colorado County Historical Commission, Ernest Mae was involved with the research on the Masonic Cemetery, Eagle Lake; Trinity Lutheran Cemetery, Frelsburg and various other historical projects in Colorado County. She spent years researching families buried in the Clear Creek Cemetery in Colorado County. As Historian for Clear Creek Cemetery Association she printed a book "Clear Creek Cemetery" with the history of the area and biographical information on the families buried there. The Texas Historic Cemetery Plaque was dedicated to her at the dedication at Clear Creek in October 2009.
Ernest Mae participated in the "Live Oaks and Dead Folks" fundraiser for the Nesbitt Memorial Library for several years. She always assumed the life of one of her favorite Colorado County historical characters who were buried in the Columbus City
Cemetery. She contributed many articles to the Nesbitt Memorial Library Journal, which Bill Stein published for several years. Many of her papers are found on the Colorado County GenWeb site.
Ernest Mae Seaholm had done much research on her own family. She has many, many files on the Andrews, Payne and Seaholm families (to name only a few). She had been the family genealogist for many years. However, she was delighted to assist anyone who was interested in tracing their families. She spent many hours researching information for someone who mentioned to her they were interested in their family history.
Ernest Mae is survived by brother-in-law, Earl Rodgers; nephews, Larry H. Rodgers and wife, Cayenne Ernie Rodgers and wife, Dixie; Don Spalinger and wife, Penny; great and greatgreat nieces and nephews; numerous cousins and friends. She was preceded in death by her parents, Ernest and Susie Seaholm; sisters, Annette Rodgers and Louise Spalinger.
Funeral services were at 2 p.m., Thursday, April 22, at the Eagle Lake Funeral Home with Rev. Gale Wilson officiating. Vicki Powers, soloist and Sandra Benge, pianist. Burial was at Masonic Cemetery in Eagle Lake. In lieu of flowers memorials
may be given to: Wintermann Library, 101 N. Walnut, Eagle Lake, TX 77434; Nesbitt Memorial Library, 529 Washington, Columbus, TX 78934; or Amazing Grace Hospice, 22447 Bucktrout Ln., Katy, TX 77449. Sympathy is extended to the family in their loss.